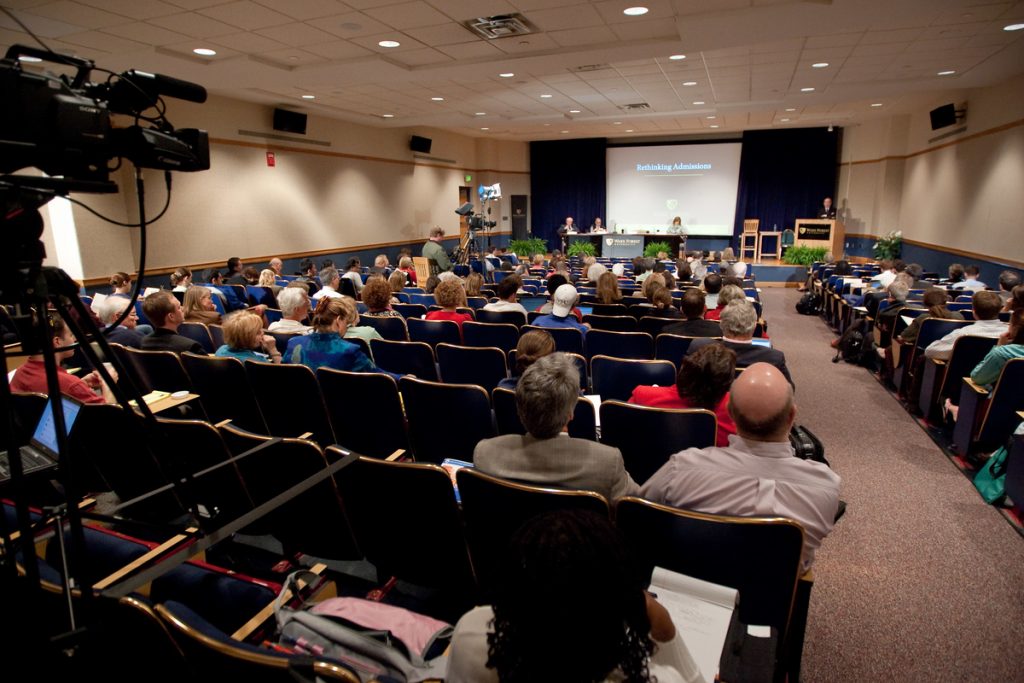 On April 15 and 16, 2009, Wake Forest University hosted top admissions officers and leading researchers from Berkeley, Duke, Harvard, Ohio State, Princeton, Texas, Virginia, Yale and other universities along with the director of data research for U.S. News & World Report for the Rethinking Admissions conference.
Participants presented papers and discussed research on standardized testing, diversity, creativity, college ratings and how to evaluate success in college. The two-day event was followed by a public lecture on April 21, featuring Robert Sternberg, Dean of Tufts University, who reported on Tuft's experiment with essay questions as predictors of success in college.
---
Purpose
University admissions policies, and the tools used in the process, are complex and raise a number of interesting research questions. What role should standardized testing play in admissions practices? How well does high-school GPA and class rank predict college grades and graduation? How should personal promise for creativity and leadership be evaluated? How heavily should extracurricular accomplishments be weighed? What is the best way to craft a class for academic excellence and social diversity?
Reports from some of America's top academicians, research scientists, and administrative leaders in higher education revolved around these critical subjects. Admissions officers from Duke University, Harvard University, Spelman College, Tufts University, University of Virginia, University of Texas at Austin, and Wake Forest University joined scholars from Bowling Green State University, Princeton University, Ohio State University, University of California at Berkeley, and the University of Georgia. Author Daniel Golden, who won the Pulitzer Prize for a series of articles he wrote on inequities in college admissions, delivered the keynote address on April 15. His presentation titled Slumdog Ivy Leaguer, drew parallels between the obstacles faced by low-income students trying to get into Ivy League schools and the homeless hero in the Academy Award-winning movie Slumdog Millionaire.
---
Agenda
In session 1, two panels reported on the experiences of public and private universities with standardized tests. Topics included new findings on the predictive power of the SAT by gender, race and family socioeconomic status (SES) and the effects of going SAT optional on both the social diversity and academic quality of undergraduates. Research also was presented from the only national, empirical study to date by independent academics on the validity of the new SAT.
Session 2 examined the challenges of crafting a class, with particular emphasis on the academic and social goals of admissions. Daniel Golden, former Deputy Bureau Chief for the Wall Street Journal, and author of The Price of Admissions (2006), gave the Keynote Address in the afternoon.
Sessions 3 and 4 assessed the role of the high school record and admissions interviews, and discussed predicting creativity. Presentations focused on evaluating student success in college. How do we measure student success? Are there alternatives to graduation rates and the college GPA? In turn, how does one measure the value-added provided by a college education? In the conference's final session, the dean of admissions at Yale, an outspoken critic of commercial magazine college rankings, exchanged views with U.S. News & World Report's director of data research, and the economics professor who developed Forbes new college ratings system. They delved into the question of how much consumer magazine rating reports actually tell us about the quality of America's colleges, and the role they play in student success.